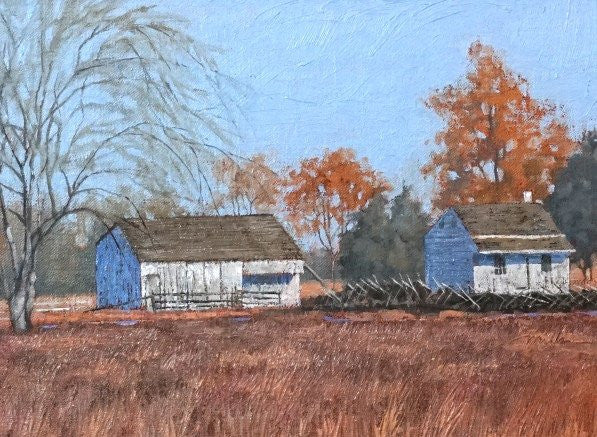 October First Friday with Harold Miller
Posted by Linda Atiyeh - September 26, 2016
For our October First Friday event, Gallery 30 will host landscape painter Harold Miller and Local Author Jared Frederick.

Harold Miller, who has been represented by Gallery 30 since 2008, paints the Gettysburg landscape in a style reminiscent of the acclaimed American painters, Andrew Wyeth and Edward Hopper. Using a palette rich in seasonal hues, Miller uniquely captures the stillness and solitude of Gettysburg. His work has been shown in exhibits and galleries across Pennsylvania. Always working on his craft, Miller was one of the artists featured in a recent group exhibition at the Agora Gallery in New York City and in 2015 he enjoyed a solo show at the Greensburg Art Center in Greensburg, PA.

Images of Modern America: Gettysburg National Military Park, by local author Jared Frederick, documents the park from the Eisenhower era to the modern day through a fascinating series of photographs. Frederick's monograph chronicles how the battlefield has evolved as a public space through a discussion of relevant issues such as historical memory, preservation, and popular culture. After receiving his M.A. from West Virginia University in 2012, Frederick served as a park ranger at Gettysburg National Military Park. He is currently an Instructor of American History and Public History at Penn State Altoona.

Come meet Harold Miller, Jared Frederick, explore local art, and enjoy a wine and cheese reception at Gallery 30 from 5:30-8:00 PM on Friday, October 7, 2016. Gallery 30 is located at 26 York Street in Gettysburg. For more information visit www.gallery30.com or call 717-334-0335.
Linda Atyeh: About the Author
The owner of Gallery 30 since 2007, Linda Atiyeh personally curates Gallery 30's collection of American fine art and artisan crafts. Linda's inspired vision has empowered Gallery 30 to flourish, while remaining true to the beliefs central to its incredible longevity and success. Over the years, Linda has redefined Gallery 30's artisan craft collection to place a greater emphasis on Pennsylvania and Gettysburg related products, and she has personally selected Gallery 30's exquisite handcrafted jewelry collection - drawn from around the world. Under Linda Atiyeh's direction, Gallery 30 expanded from its original 3,000 square feet location to its new home, a 9,100-square-foot lovingly restored historic property at 26 York Street.
A native Pennsylvanian, Linda Atiyeh takes great pride in her community and is committed to giving back to the region. Linda is on the board of directors of the Adams County Arts Council and the Historic Gettysburg Adams County Preservation Society. She is also a member of Main Street Gettysburg, Gettysburg Area Retail Merchants Association, the Gettysburg Convention and Visitors Bureau, and the Pennsylvania Guild of Craftsmen.