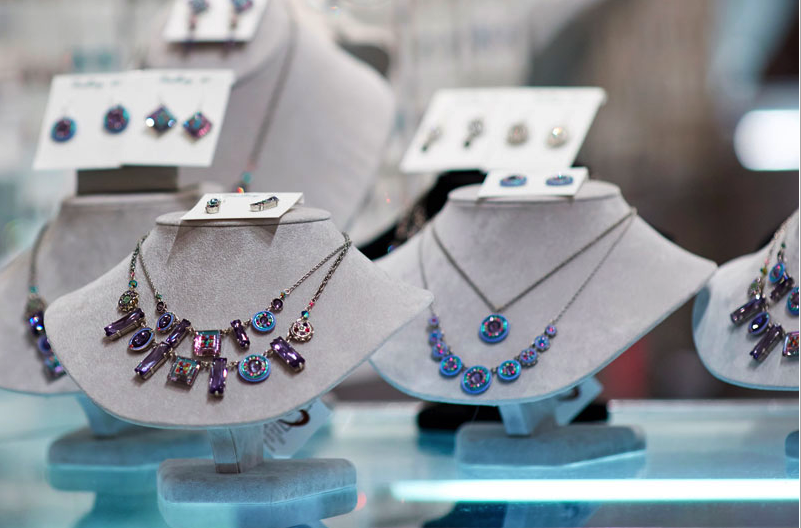 Spring 2015: Exciting New Colors and Styles from Firefly Jewelry
Posted by Linda Atiyeh - April 9, 2015
For years Firefly jewelry has been a mainstay at Gallery 30, and with hundreds of styles, our selection is one of the best in the world. We love the sparkling Swarovski crystal and dazzling colors of Firefly's intricately embellished, handcrafted jewelry. Firefly's most distinguishing characteristic is their passion for precise detail and meticulous craftsmanship; Firefly's artists use Swarovski crystals, Czech glass beads, silk, Japanese suede and original metal components to create complex mosaic patterns. The designs are elegant yet whimsical, and filigree findings crafted from vintage molds give the contemporary collection a romantic flourish.
The Firefly Story
The distinctive style of the jewelry isn't the only thing that we love about Firefly. From its inception, the small, cottage industry-style company has been dedicated to bringing fair wages, skill training and a comfortable working environment to the villagers of Santiago Atitlan, Guatemala. Edward Rudnicki, California jewelry designer and founder of Firefly, recognized the talent of the indigenous people of Santiago Atitlan and sought to translate their skills in the village's traditional arts of weaving and embroidery into the jewelry making trade. Firefly now employs about 80 indigenous artisans at their studio in the highlands of Guatemala. The spacious, open-air studio is built around a flower-filled courtyard--complete with two ever-vigilant terriers, Ricky and Rocky, who freely roam the garden--and each artisan has his or her own well-lit work station.
Award-Winning Artistry
Juan Carlos Chavajay, one of the artisans trained by Rudnicki, is now Firefly's Head Jewelry Designer. Chavajay was recently awarded first prize in the Professional category at Swarovski Crystal Corporation's prestigious Create-Your-Style competition, and he works closely with Rudnicki to design two jewelry collections for release each year.
Firefly's Spring 2015 Collection
Firefly's Spring 2015 Collection has now arrived at Gallery 30! In Firefly's signature style, the new earring, necklace and bracelet designs are bold, dynamic and colorful. The most exciting addition is the introduction of Erinite, the newest color family in Firefly's La Dolce Vita Jewelry Collection. Inspired by the splendor of Ireland, Erinite gleams with lush green Swarovski crystals highlighted with soft coral accents. As one of the first retailers to receive the Erinite collection, Gallery 30 has this fabulous new color available in all of Firefly's La Dolce Vita styles! One look and you'll see that Erinite jewelry is the perfect gift for Easter, Mother's Day, wedding shower or graduation.
Shop Firefly Jewelry at Gallery 30
Linda Atyeh: About the Author
The owner of Gallery 30 since 2007, Linda Atiyeh personally curates Gallery 30's collection of American fine art and artisan crafts. Linda's inspired vision has empowered Gallery 30 to flourish, while remaining true to the beliefs central to its incredible longevity and success. Over the years, Linda has redefined Gallery 30's artisan craft collection to place a greater emphasis on Pennsylvania and Gettysburg related products, and she has personally selected Gallery 30's exquisite handcrafted jewelry collection - drawn from around the world. Under Linda Atiyeh's direction, Gallery 30 expanded from its original 3,000 square feet location to its new home, a 9,100-square-foot lovingly restored historic property at 26 York Street.
A native Pennsylvanian, Linda Atiyeh takes great pride in her community and is committed to giving back to the region. Linda is on the board of directors of the Adams County Arts Council and the Historic Gettysburg Adams County Preservation Society. She is also a member of Main Street Gettysburg, Gettysburg Area Retail Merchants Association, the Gettysburg Convention and Visitors Bureau, and the Pennsylvania Guild of Craftsmen.