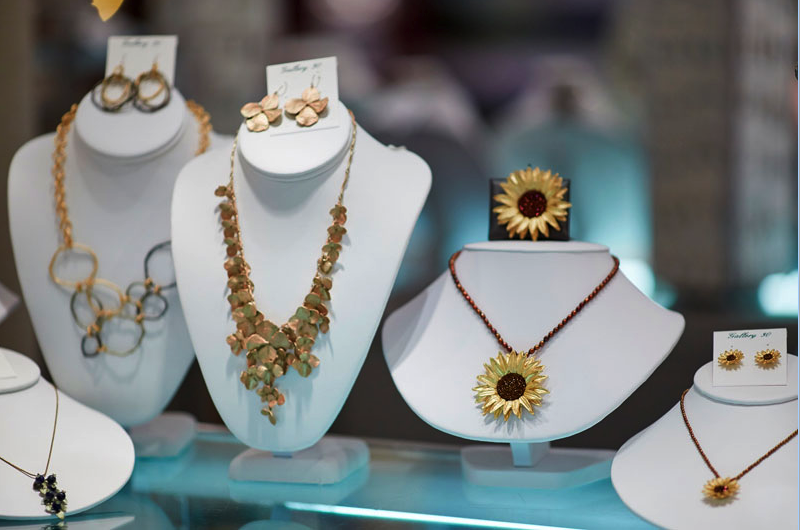 Posted by Linda Atiyeh - March 27, 2015
This time of year we are all ready to shake off the winter blues and enjoy some sunshine. At Gallery 30 this spring we are debuting four new jewelry collections guaranteed to add a little extra sparkle to that shine.
Artist Michael Michaud Artist
Michael Michaud's botanical jewelry captures the beauty and exquisite detail of nature with metals, pearls and semi-precious stones. In 1991, while living in the Connecticut countryside and working near New York City's flower district, Michael began to meld his love of nature with his love of jewelry. The artist has since perfected an innovative technique of using actual flora to create highly detailed, realistic molds. He then fashions his molded "copies of nature" into jewelry using bronze, sterling silver and gold with hand patinaed finishes. Michael's designs have become well known for their true-to-nature detail and outstanding craftsmanship, and we are thrilled to be able to feature this remarkable jewelry at Gallery 30. Sea Glass We are also very excited by the recent addition of sea glass jewelry that is handcrafted in nearby Downingtown, Pennsylvania. A husband and wife team of artists create gorgeous palettes of colored glass using an Earth-friendly process of tumbling pieces of stained glass, antique glassware, and recycled glass bottles. With this inventive process, the artists are able to do in one day what it takes the waves years to do--and they do it without polluting our oceans! The sleek jewelry designs are feminine and delicate, accentuating the soft beauty of the sea glass with pearls, crystal and sterling silver.


Roman Glass
We have expanded our selection of Roman glass jewelry to include a new designer who pairs the dazzling pieces of glass with semi-precious stones, pearls and artistic sterling silver settings. The pieces of Roman glass in this jewelry are hand cut from glass fragments that have been excavated at ancient city sites in the Holy Land and date from 100 to 300 BCE. It takes thousands of years for the glass to become weathered with the layers of patina that give each piece its unique iridescent luster, and this elegant jewelry allows you to wear a genuine historic artifact in style.
Artist Michal Golan
Michal Golan is an Israeli born artist, printer and ceramist who, over the past 20 years, has shifted her creative focus to jewelry design. Michal's lifelong interest in "how individual objects come together to create unified, coherent scenes and bodies" led her to develop a mosaic style that is all her own. Each piece of her vibrantly colorful jewelry is handcrafted in her New York City studio using crystals, gemstones, glass beads and natural elements. The distinctive jewelry seamlessly fuses the designer's love of antiques and Victorian jewelry with a thoroughly modern design aesthetic and draws heavily Middle Eastern colors and motifs. With these new jewelry collections, plus fresh designs from Firefly, Ayala Bar, Angie Olami, Desert Heart, Wanna Buy a Watch?, JoLa Collage and Trollbeads, Gallery 30 definitely has all the spring bling that you've been craving!
Linda Atyeh: About the Author
The owner of Gallery 30 since 2007, Linda Atiyeh personally curates Gallery 30's collection of American fine art and artisan crafts. Linda's inspired vision has empowered Gallery 30 to flourish, while remaining true to the beliefs central to its incredible longevity and success. Over the years, Linda has redefined Gallery 30's artisan craft collection to place a greater emphasis on Pennsylvania and Gettysburg related products, and she has personally selected Gallery 30's exquisite handcrafted jewelry collection - drawn from around the world. Under Linda Atiyeh's direction, Gallery 30 expanded from its original 3,000 square feet location to its new home, a 9,100-square-foot lovingly restored historic property at 26 York Street.
A native Pennsylvanian, Linda Atiyeh takes great pride in her community and is committed to giving back to the region. Linda is on the board of directors of the Adams County Arts Council and the Historic Gettysburg Adams County Preservation Society. She is also a member of Main Street Gettysburg, Gettysburg Area Retail Merchants Association, the Gettysburg Convention and Visitors Bureau, and the Pennsylvania Guild of Craftsmen.