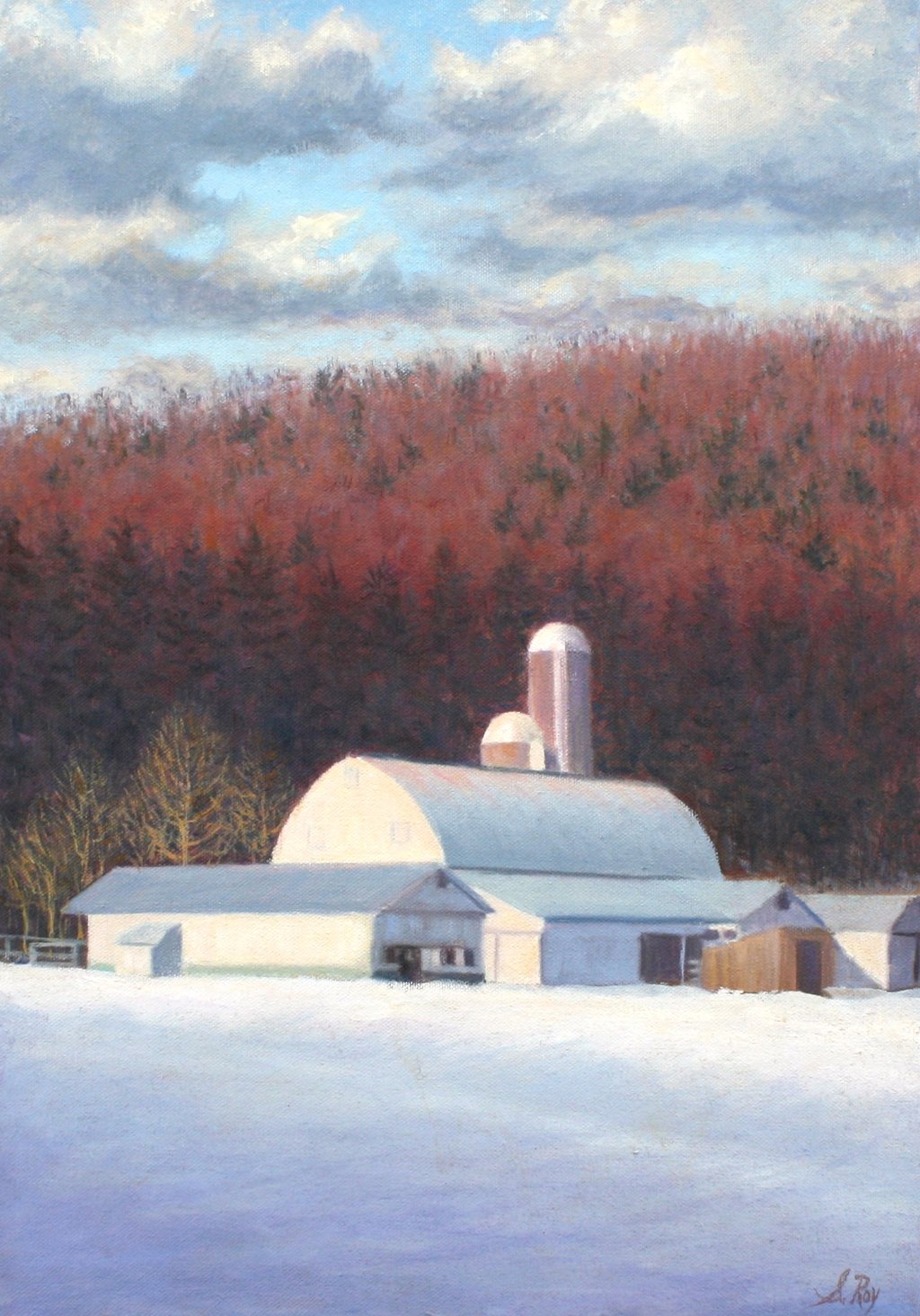 December First Friday with Painter Simonne Roy
Gallery 30 will host award-winning Pennsylvania Plein Air Artist, Simonne Roy, during the First Friday reception on Friday, December 1 with the unveiling of ten exceptional Pennsylvania Landscapes which will be on display and for sale. Roy will be on hand to discuss her artistic process and the practice of plein air painting.

Pennsylvania native Simonne Roy's highly textured paintings are created by layering on oil paints with a palette knife, a paintbrush or a combination of the two tools. She finds her inspiration in nature and has painted a wide variety of Central Pennsylvania landscapes. Simonne has most recently been capturing the streets and farms of Gettysburg.

"Seeing Simonne on the battlefields painting our historic landscapes adds a wonderful artistic experience to a Gettysburg visit" said Linda Atiyeh, owner of Gallery 30 in Gettysburg. "We are so pleased to offer Simonne Roy's pastoral Pennsylvania artwork at Gallery 30."

Roy won first place in the Lewisburg Arts Festival show for "Blueberry Field." Her painting "Sunflower Field" was accepted into the competitive juried show sponsored by Doshi Gallery and held at the State Museum of Pennsylvania. The painting "Grapevines Running" won honorable mention in the 2015 Lewisburg Arts Festival show. Roy also completed a 2015 solo exhibit at Bucknell University.

Come meet Simonne Roy, explore local art, and enjoy a wine and cheese reception at Gallery 30 from 5:30-8:00 PM on Friday, December 1, 2017. Gallery 30 is located at 26 York Street in Gettysburg. For more information call 717-334-0335.
Linda Atiyeh: About the Author
The owner of Gallery 30 since 2007, Linda Atiyeh personally curates Gallery 30's collection of American fine art and artisan crafts. Linda's inspired vision has empowered Gallery 30 to flourish, while remaining true to the beliefs central to its incredible longevity and success. Over the years, Linda has redefined Gallery 30's artisan craft collection to place a greater emphasis on Pennsylvania and Gettysburg related products, and she has personally selected Gallery 30's exquisite handcrafted jewelry collection - drawn from around the world. Under Linda Atiyeh's direction, Gallery 30 expanded from its original 3,000 square feet location to its new home, a 9,100-square-foot lovingly restored historic property at 26 York Street.

A native Pennsylvanian, Linda Atiyeh takes great pride in her community and is committed to giving back to the region. Linda is on the board of directors of the Adams County Arts Council and the Historic Gettysburg Adams County Preservation Society. She is also a member of Main Street Gettysburg, Gettysburg Area Retail Merchants Association, Destination Gettysburg, and the Pennsylvania Guild of Craftsmen.