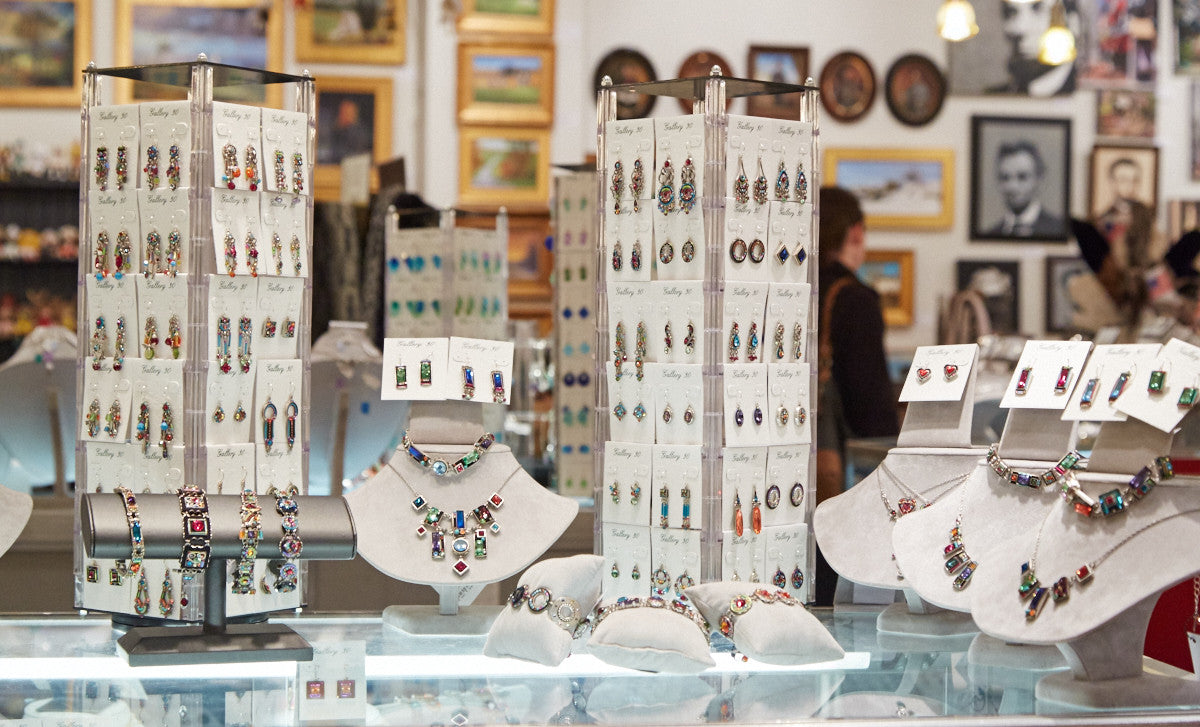 Introducing Firefly Jewelry's Exclusive "Fresh & Experimental" Collection
Posted by Linda Atiyeh - October 28, 2015
Firefly's colorful mosaic jewelry has been a favorite at Gallery 30 for nearly a decade, and now we are thrilled to announce the arrival of Firefly's new "Fresh & Experimental" Collection! Like all Firefly Jewelry, the Fresh & Experimental Collection is handcrafted using Swarovski crystal and Czech glass with vintage-inspired filigree findings, but every necklace, bracelet and earring in this premier collection is an inventive, limited edition piece that you will not find anywhere else. In fact, Gallery 30 is one of the only retailers in the world to receive these exclusive styles! With the Fresh & Experimental Collection, Firefly's award-winning designers have fused brilliant color combinations and modern geometric shapes with the glamour of art deco design to create dazzling and distinctive jewelry that must be seen to be believed.
NEW COLOR RELEASED IN LA DOLCE VITA COLLECTION
The newest color in Firefly Jewelry's La Dolce Vita Collection is Ruby! Brand new for Fall 2015, Ruby gleams with iridescent magenta Swarovski crystals that dance in the light with a prism of different colors. The deep magenta crystals are highlighted with autumnal shades of orange, gold and lime in an artistic mix of Swarovski crystals, Czech glass, Japanese suede and intricate metal components. As one of the first retailers to receive the Ruby color family, Gallery 30 has this fabulous new color available in all of Firefly's La Dolce Vita styles!
QUALITY CRAFTSMANSHIP
The distinctive style of the jewelry isn't the only thing that we love about Firefly Jewelry! Firefly is a small, cottage industry-style company that is dedicated to bringing fair wages, skill training and a comfortable working conditions to the villagers of Santiago Atitlan, Guatemala. Years ago, Edward Rudnicki, a California jewelry designer and founder of Firefly, recognized the talent of the indigenous people of Santiago Atitlan and sought to translate their skills in the village's traditional arts of weaving and embroidery into the jewelry making trade. Firefly Jewelry now employs about 80 indigenous artisans at their studio in the highlands of Guatemala; the open-air studio is built around a garden courtyard, and every artisan has his or her own well-lit work station where each piece of Firefly Jewelry is meticulously handcrafted. Juan Carlos Chavajay, one of the Guatemalan artisans originally trained by Rudnicki, now serves as Firefly's Head Jewelry Designer. Chavajay was recently awarded first prize in the Professional category at Swarovski Crystal Corporation's prestigious Create-Your-Style competition, and he works closely with Rudnicki to design new jewelry collections for release each year.
GALLERY 30'S UNPARALLELED SELECTION
There are currently hundreds (yes, literally hundreds!) of different styles of Firefly Jewelry available at Gallery 30 in Gettysburg. In addition to Firefly's most exclusive collection of "Fresh and Experimental" designs, our unparalleled selection features the entire La Dolce Vita Collection, including the new Ruby and Spring 2015's Erinite color family, as well as a multitude of multicolor necklaces, bracelets and earrings. Selected pieces of Firefly Jewelry are available online in Gallery 30's web store--with new styles being added as quickly as we can keep up--and you can experience the full radiance of Firefly Jewelry in-person at Gallery 30 in Gettysburg year round!
Shop Firefly Jewelry at Gallery 30
Linda Atyeh: About the Author
The owner of Gallery 30 since 2007, Linda Atiyeh personally curates Gallery 30's collection of American fine art and artisan crafts. Linda's inspired vision has empowered Gallery 30 to flourish, while remaining true to the beliefs central to its incredible longevity and success. Over the years, Linda has redefined Gallery 30's artisan craft collection to place a greater emphasis on Pennsylvania and Gettysburg related products, and she has personally selected Gallery 30's exquisite handcrafted jewelry collection - drawn from around the world. Under Linda Atiyeh's direction, Gallery 30 expanded from its original 3,000 square feet location to its new home, a 9,100-square-foot lovingly restored historic property at 26 York Street.
A native Pennsylvanian, Linda Atiyeh takes great pride in her community and is committed to giving back to the region. Linda is on the board of directors of the Adams County Arts Council and the Historic Gettysburg Adams County Preservation Society. She is also a member of Main Street Gettysburg, Gettysburg Area Retail Merchants Association, the Gettysburg Convention and Visitors Bureau, and the Pennsylvania Guild of Craftsmen.