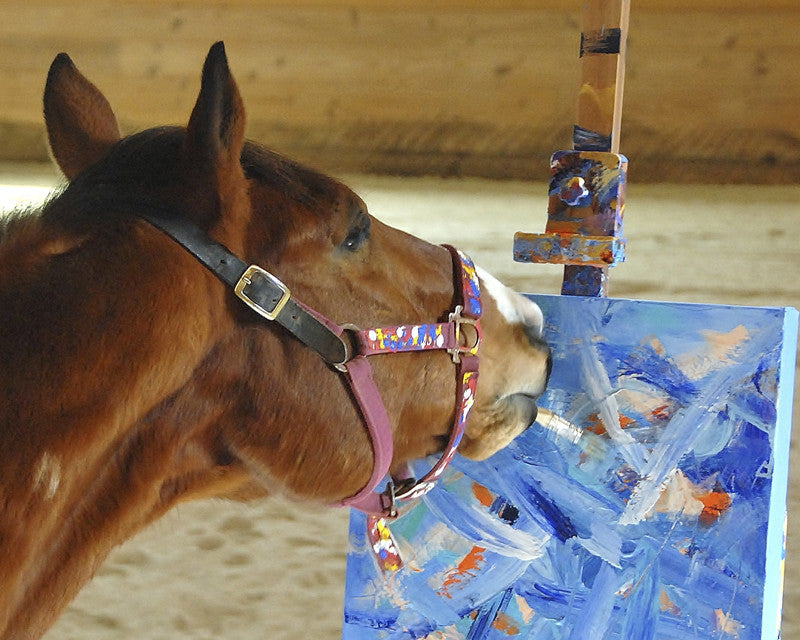 METRO BOOK SIGNING AT GALLERY 30: SATURDAY, APRIL 16TH!
Posted by Linda Atiyeh - March 5, 2016
To celebrate the release of Painting with Metro, Gallery 30 is throwing an epic launch party and book signing on Saturday, April 16th! Metro is already painting up a storm in anticipation of this momentous event that will include autographed copies of both of Metro's books, Painting with Metro and Coloring with Metro, exclusive Metro shirts and other special edition products, plenty of new Metro paintings as well as an in-person appearance by Metro himself! That's right, Metro (and his buddy Pork Chop) will be joining the party at Gallery 30 from 1 to 4:30pm! Due to Metro's health concerns, he has made only one other public appearance since retiring from racing, so you do not want to miss this rare opportunity!

We are expecting a huge turnout, so please plan to arrive early on April 16th to ensure that you get your autographed copy of Painting with Metro! To pre-order the book, please visit Gallery 30 in Gettysburg, call us at 717-334-0335 or shop online in our web store. As a tribute to Metro, Gallery 30 will donate a portion of the proceeds from each book sale to a non-profit charity.
ABOUT THE BOOK
Every animal lover will enjoy Painting with Metro, the story of Ron, a shy, Gulf War Air Force veteran, and Metro Meteor, a feisty, bad-kneed Thoroughbred racehorse destined for the slaughterhouse. An unlikely pairing, the two bonded through art: creating stunning abstract paintings. Each painting brought much needed strength and hope, plus a new lease on life to both man and horse. For Metro painting became an escape from a death sentence; for Ron it meant overcoming his extreme introversion.
Painting with Metro also details how Metro and Ron have used their newfound fame to highlight the perilous nature of the racing industry. Thousands of Thoroughbreds are bred for racing each year, but only five to ten percent ever see a racecourse. Unless they are lucky enough to find another career, these horses are disposed of.
METRO AND GALLERY 30
Gallery 30 has been Metro's exclusive art gallery since the talented racehorse first picked up a paintbrush, and we are absolutely thrilled about the upcoming release of Painting with Metro: How a Crippled Racehorse Rescued Himself (and Me) with a Paintbrush! We are honored to announce that Metro has also chosen Gallery 30 as the only venue to get autographed copies of the new book, which tells Metro's inspirational story in the words of his owner-collaborator Ron Krajewski and New York Times bestselling author Susy Flory.
Linda Atyeh: About the Author
The owner of Gallery 30 since 2007, Linda Atiyeh personally curates Gallery 30's collection of American fine art and artisan crafts. Linda's inspired vision has empowered Gallery 30 to flourish, while remaining true to the beliefs central to its incredible longevity and success. Over the years, Linda has redefined Gallery 30's artisan craft collection to place a greater emphasis on Pennsylvania and Gettysburg related products, and she has personally selected Gallery 30's exquisite handcrafted jewelry collection - drawn from around the world. Under Linda Atiyeh's direction, Gallery 30 expanded from its original 3,000 square feet location to its new home, a 9,100-square-foot lovingly restored historic property at 26 York Street.
A native Pennsylvanian, Linda Atiyeh takes great pride in her community and is committed to giving back to the region. Linda is on the board of directors of the Adams County Arts Council and the Historic Gettysburg Adams County Preservation Society. She is also a member of Main Street Gettysburg, Gettysburg Area Retail Merchants Association, the Gettysburg Convention and Visitors Bureau, and the Pennsylvania Guild of Craftsmen.