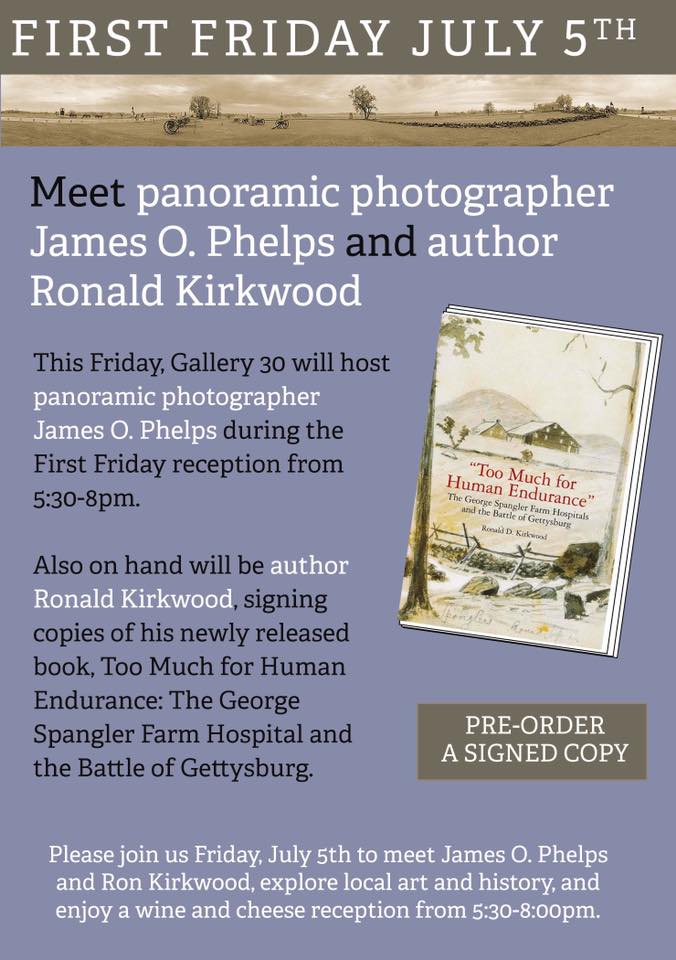 July 2019 First Friday: Panoramic Photographer and Local Author
Gallery 30 will host panoramic photographer James O. Phelps during the First Friday reception on July 5 from 5:30-8pm. Also on hand will be author Ronald Kirkwood signing copies of his newly released book,
Too Much for Human Endurance: The George Spangler Farm Hospital and the Battle of Gettysburg
. 
Phelps, who specializes in capturing and artfully rendering 360 degree panoramic photographs, will be on hand to discuss his process and demonstrate his equipment. A variety of his Gettysburg-themed 1/7 ratio (height to width) panoramic photographs will also be on display and for sale, including "The Angle" a commemoration of the Copse of Trees used as the landmark for Pickett's Charge. Gallery 30 has been exclusively representing Phelp's work for over a decade. 
As a student in the School of Architecture at the University of Minnesota, James often began a project by going out to a hypothetical site with a 35mm camera and taking a series of sequential snapshots.  Then, back at the studio, with a little scotch tape and an exercise similar to laying dominos end to end, a panorama would emerge.  In 1996, James took his first true panoramic photograph with a Hulcherama Panoramic Camera near Devil's Den on the Gettysburg Battlefield.
As a practice, panoramic photography holds an important distinction in the history of photography. Its origins date back to the 1840's with the Daguerreotype process, where 150° panoramic images were first captured on a silvered copper plate.  George N. Barnard, a photographer for the Union Army, captured panoramic images using the wet-plate collodion process during the Civil War. 
Ronald D. Kirkwood is retired after a 40-year career as an editor and writer in newspapers and magazines including USA TODAY, the Baltimore Sun, the Harrisburg (PA) Patriot-News, and the York (PA) Daily Record. Ron edited national magazines for USA TODAY Sports and was NFL editor for USA TODAY Sports Weekly. He won numerous state, regional, and national awards during his career and managed the copy desk in Harrisburg when the newspaper won a Pulitzer Prize in 2012. Ron has been a Gettysburg Foundation docent at the George Spangler Farm Civil War Field Hospital Site since it opened in 2013. He is a native of Dowagiac/Sister Lakes, MI, and a graduate of Central Michigan University, where he has returned as guest speaker to journalism classes as part of the school's Hearst Visiting Professionals series.
Using a large array of firsthand accounts, Kirkwood re-creates the sprawling XI Corps hospital complex and the people who labored and suffered there— especially George and Elizabeth Spangler and their four children, who built a thriving 166-acre farm only to witness it nearly destroyed when war paid a bloody visit in the summer of 1863. Stories rarely if ever told about the wounded, dying, nurses, surgeons, ambulance workers, musicians, and others are weaved seamlessly through gripping and smooth-flowing prose. "Too Much for Human Endurance" introduces readers to heretofore untold stories of the Spanglers, their farm, those who labored to save lives, and those who suffered and died there. They have finally received the recognition that their place in history deserves.
Please join us Friday, July 5 to meet James O. Phelps and Ron Kirkwood, explore local history, and enjoy a wine and cheese reception from 5:30-8:00pm. Gallery 30 is located at 26 York St. For more information visit
www.gallery30.com
or call 717-334-0335.